Newsletter Groupe Rythmologie – Stimulation cardiaque de la SFC
Décembre 2022
Best of rythmologie AHA - RAPID STUDY
Auteurs : Eloi Marijon et Fawzi Kerkour – CHU Pompidou Paris 
Self-administered Etripamil for Termination of Spontaneous Paroxysmal Supraventricular Tachycardia 
Mots clés : Tachycardie Jonctionnelle (TJ); Etripamil ; Pill in the Pocket. 
Rationnel de l'étude 
Les tachycardies jonctionnelles sont responsables de passages récurrents aux urgences. L'approche  « Pill in the pocket » a été peu étudiée et aucun traitement pharmacologique auto-administré a prouvé son  efficacité sur les TJ. L'absorption lente des médicaments administrés per os et le risque de pause sinusale  à la réduction, expliquent en partie leur efficacité limitée et leur intolérance. Les dernières  recommandations européennes ne considèrent pas cette option thérapeutique.2 
Par quel mécanisme l'Etripamil agit -il ?  
L'Etripamil est un bloqueur des canaux calciques non dihydropyridiniques de type L. Son administration  par voie nasale semble avoir une action thérapeutique rapide sur le nœud atrio-ventriculaire. Il ralentit sa  conduction et augmente sa période réfractaire.1
Quel est l'objectif de l'étude ? 

Avec RAPID, les chercheurs ont évalué l'efficacité  et la sécurité du vaporisateur nasal Etripamil pour  l'arrêt de la TJ chez les patients symptomatiques hors-hôpital.

Quelle était la conception de l'étude ? 

Quelles sont les principales conclusions ? 
Efficacité de l'Etripamil auto-administré à réduire la TJ : à 30 min, 3 fois plus de réduction que le placebo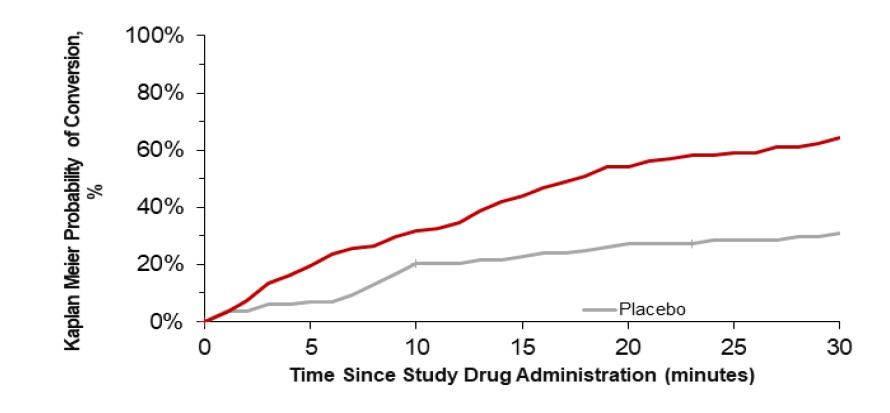 A 30 min., HR = 2.62 (95% CI, 1.659-4.147);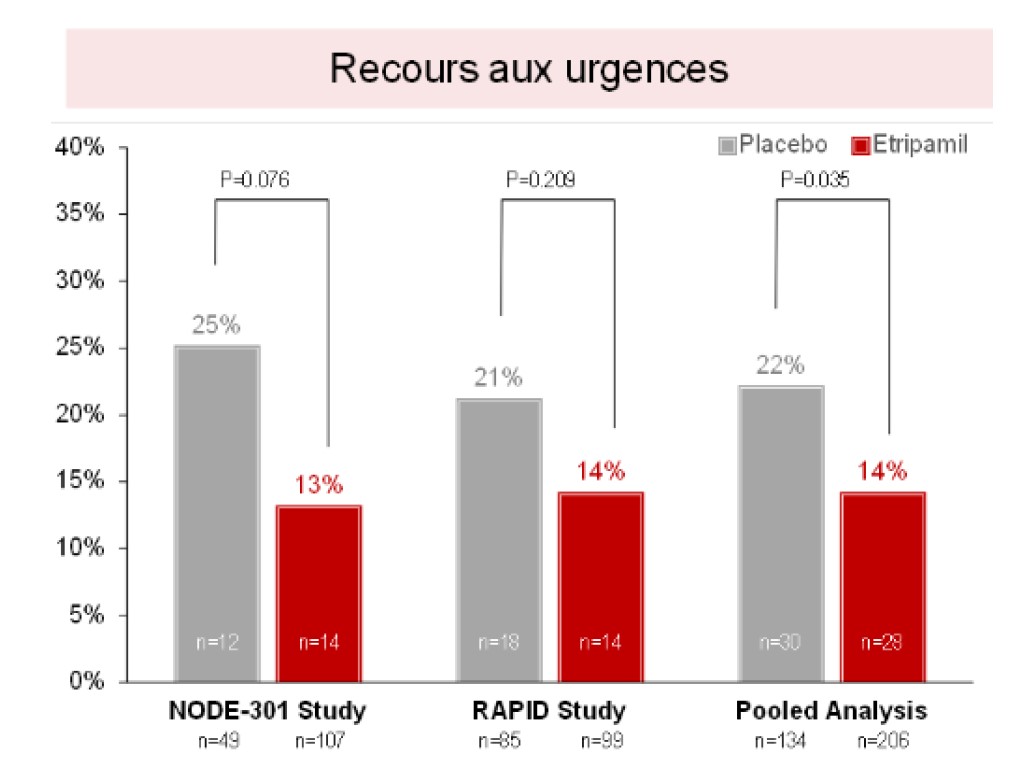 Lors de la présentation des résultats à l'AHA 2022, James E. Ip, MD, a déclaré que la conversion de la TJ  en rythme sinusal était de 64,3 % à 30 minutes et de 73,5 % à 60 minutes, avec un temps médian de  conversion de 17,2 minutes dans le groupe Etripamil contre 53,5 minutes dans le groupe placebo.
On note également une réduction significative de l'utilisation des services d'urgence et des interventions médicales.
Innocuité d'utilisation et bonne tolérance de l'Etripamil : 
Aucun signal sur la sécurité ou d'effet indésirable avec une 2e dose (aucun

BAV II ou III, pas de bradycardie <40bpm, 1 pause > 3s)
La majorité des EI étaient bénins et transitoires.
Ces résultats démontrent une nouvelle alternative chez les patients peu favorables à l'ablation ! 
Références : 
2  Brugada J, Katritsis DG, Arbelo E, Arribas F, Bax JJ, Blomström-Lundqvist C, et al. 2019 ESC Guidelines for the management of patients with supraventricular tachycardiaThe Task Force for the management of patients with supraventricular tachycardia of the European Society of Cardiology (ESC): Developed in collaboration with the Association for European Paediatric and Congenital Cardiology (AEPC). European Heart Journal. 2020;41:655‑720.
1 Stambler BS, Plat F, Sager PT, Shardonofsky S, Wight D, Potvin D, et al. First Randomized, Multicenter, Placebo-Controlled Study of Self-Administered Intranasal Etripamil for Acute Conversion of Spontaneous Paroxysmal Supraventricular Tachycardia (NODE-301). Circ Arrhythm Electrophysiol. 28 nov 2022;e010915.