Newsletter Groupe Rythmologie – Stimulation cardiaque de la SFC
Décembre 2022
Best of rythmologie AHA - THE PROGRESSIVE-AF STUDY
Auteurs : Eloi Marijon et Fawzi Kerkour – CHU Pompidou Paris 
Atrial Fibrillation Progression After Cryoablation versus Drug Therapy 
Mots clés : fibrillation atriale (FA) ; traitement antiarythmique (TAA) ; cryoablation ; paroxystique ;  symptomatique. 
Rationnel de l'étude 
L'ablation de la FA est supérieure au TAA pour maintenir le rythme sinusal et améliorer la qualité de vie  des patients.1,2,3 En quelle mesure la cryoablation précoce de FA limite la progression vers la persistance  du trouble du rythme ? Cette question n'a pas été étudié.4,5,6 
Quel est l'objectif de l'étude ? 
L'objectif de PROGRESSIVE-AF était d'évaluer l'intérêt de la cryoablation en 1ère intention en termes de  réduction du passage du mode paroxystique au mode persistant, comparé au TAA, chez des patients  implantés d'un moniteur sous-cutané. 
Le critère d'évaluation principal était la première récidive de tachyarythmie atriale (fibrillation atriale, flutter  atrial ou tachycardie) à partir de la fin du 3ème mois (période de blanking). Les critères d'évaluation  secondaires comprenaient l'absence de symptômes d'arythmie, la charge totale en FA et la qualité de  vie.7 
THE PROGRESSIVE-AF STUDY est une extension d'étude EARLY-AF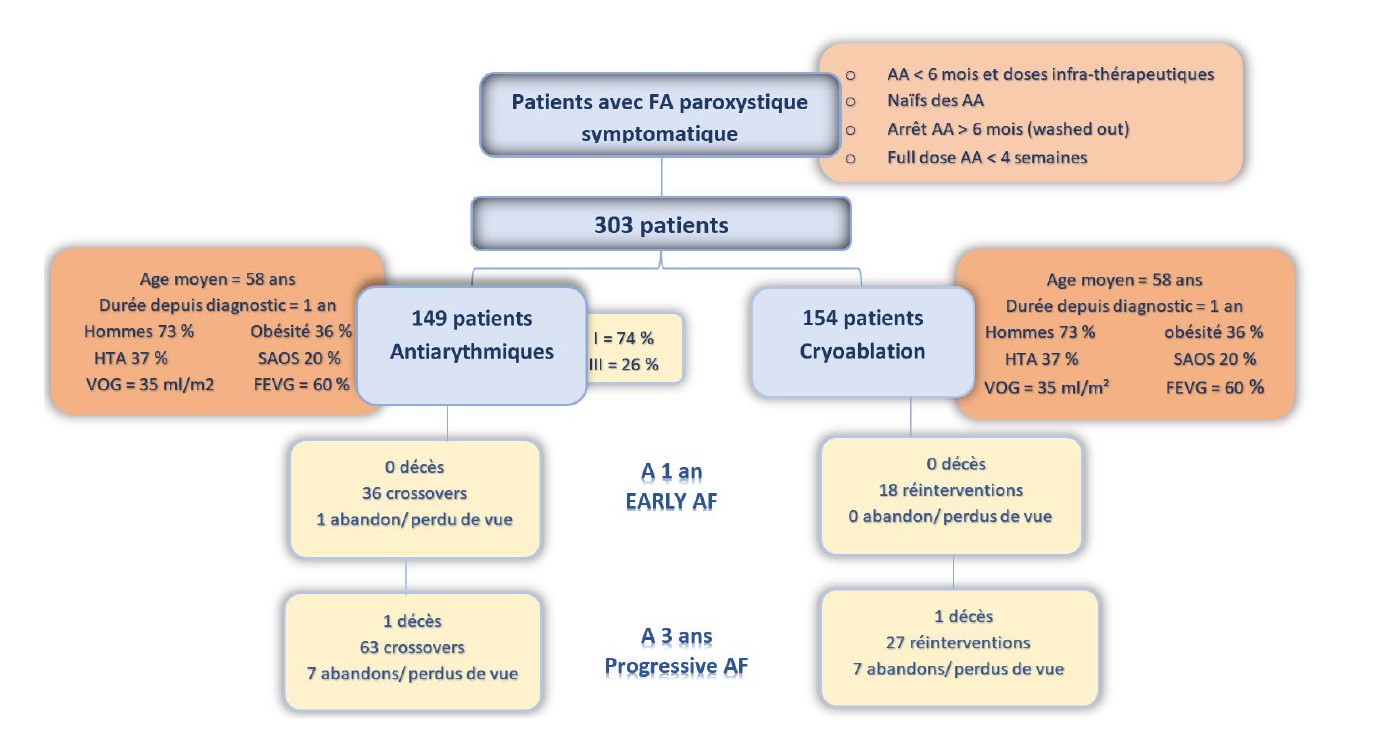 Les deux bras possèdent des caractéristiques similaires avec une population jeune et peu de  comorbidités.
Quelles sont les principales conclusions ? 
Reduction de 75 % de progression vers une FA persistante

En présentant les résultats au congrès de l'AHA 2022, Jason G. Andrade, MD, a noté que lors d'un suivi  à long terme, l'ablation de première ligne était également associée à : 
Réduction significative de toute récidive d'arythmie  

Charge significativement plus faible de la fibrillation atriale  

Amélioration significative de la qualité de vie  

Taux inférieur d'utilisation des soins de santé (hospitalisation, recours aux

urgences, cardioversion, ablation)
Taux similaire ou inférieur d'événements indésirables1
Sur la base de ces résultats, quel impact cette étude devrait-elle avoir sur la pratique ? 
Malgré 42 % de crossover (vers le groupe cryoablation) à 3 ans, l'analyse en intention de traitement  confirme le bénéfice de la cryoablation à réduire la progression de la FA. Ces résultats pourraient participer à renforcer encore plus l'ablation précoce de FA en 1ère intention lors des prochaines guidelines.
Références : 
1 Packer DL, Kowal RC, Wheelan KR, Irwin JM, Champagne J, Guerra PG, et al. Cryoballoon ablation of pulmonary veins for paroxysmal atrial fibrillation: first results of the North American Arctic Front (STOP AF) pivotal trial. J Am Coll Cardiol. 2013;61:1713‑23.
2 Farkowski MM. [Commentary to the article: Wilber DJ, Pappone C, Neuzil P et al. Comparison of antiarrhythmic drug therapy and radiofrequency catheter ablation in patients with paroxysmal atrial fibrillation: a randomized controlled trial. JAMA, 2010; 303: 333-340]. Kardiol Pol. mai 2010;68(5):609‑11; discussion 612-613.
3 Jg A, L M, A V, Mw D, J C, M D, et al. Quality of Life and Health Care Utilization in the CIRCA-DOSE Study. JACC Clinical electrophysiology [Internet]. août 2020 [cité 3 déc 2022];6(8). Disponible sur: https://pubmed.ncbi.nlm.nih.gov/32819528
4 Cosedis Nielsen J, Johannessen A, Raatikainen P, Hindricks G, Walfridsson H, Kongstad O, et al. Radiofrequency ablation as initial therapy in paroxysmal atrial fibrillation. N Engl J Med. 2012;367:1587‑95.
5 Morillo CA, Verma A, Connolly SJ, Kuck KH, Nair GM, Champagne J, et al. Radiofrequency ablation vs antiarrhythmic drugs as first-line treatment of paroxysmal atrial fibrillation (RAAFT-2): a randomized trial. JAMA. 2014;311:692‑700.
6 Wazni OM, Marrouche NF, Martin DO, Verma A, Bhargava M, Saliba W, et al. Radiofrequency ablation vs antiarrhythmic drugs as first-line treatment of symptomatic atrial fibrillation: a randomized trial. JAMA. 2005;293(21):2634‑40.
7 Andrade JG, Deyell MW, Macle L, Wells GA, Bennett M, Essebag V, et al. Progression of Atrial Fibrillation after Cryoablation or Drug Therapy. N Engl J Med. 7 nov 2022; in press